Featured Items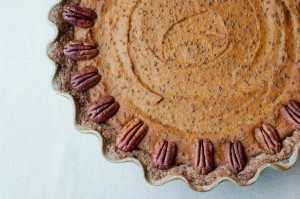 Even if you are not vegan, you will love this luscious pumpkin pie with a pecan cookie crust. Bake it a day ahead of serving, and chill it for the a classic pumpkin pie texture, or if you serve it the same day, it will be more like a pumpkin mousse pie. I also prefer to use sweet potatoes over pie pumpkin. Either way will be delicious. Serve plain, or topped with your favorite whipped cream or ice cream.
Yield: 6 servings (6 Servings)
Prep: 10 mins
Cook: 20 mins
Ready In: 30 mins
Ingredients:
Pie Crust
3/4 cup Pecans
1 cup Spelt Flour
1/3 cup + 1 tbsp Nutiva Organic Extra Virgin Coconut Oil (melted)
1/4 cup Nutiva Organic Coconut Sugar
3 tbsp Water
1 tbsp Nutiva Organic Milled Chia Seed
1 tbsp Vanilla Extract
1/2 tsp Sea Salt
Pie Filling
1 cup Water
1/2 cup Nutiva Organic Coconut Manna™
3 tbsp Nutiva Organic Chia Seeds
2 cups Pumpkin (cooked; can be substituted with cooked sweet potatoes)
1/3 cup Nutiva Organic Coconut Sugar
1 tbsp Vanilla Extract
2 tbsp Cinnamon
1 tsp Powdered Ginger
1/2 tsp Nutmeg
1/2 tsp Sea Salt
1/4 tsp Ground Cloves
1/4 cup Pecans
Steps:
Preheat oven to 375ºF.
Lightly oil a 9-inch deep dish pie pan on the bottom and up the sides with 1 tablespoon melted coconut oil.
To make the crust, place pecans in a food processor and grind to a meal. Transfer to a large mixing bowl along with the spelt flour, 1/3 cup melted coconut oil, coconut sugar, water, chia, vanilla and salt and mix well.
Transfer the dough to the prepared pie pan and use your fingers to press it out in an even layer over the bottom and up the sides of the pie pan. Poke a few holes in the dough with a fork.
Bake for about 10 minutes, until it loses it shine.
While the pie crust is baking, put the water, coconut manna and chia seeds in a 2 cup measuring cup. It will thicken and become gelantinous.
Place all the filling ingredients but pecans in a food processor and puree until smooth. Adjust the spices, if desired.
Pour the filling into the baked pie crust; decorate with pecans and return to the oven and bake for 5-10 minutes, or until pie filling is slightly golden brown.
Remove from the oven and let it sit about an hour to cool. Serve warm, or at room temperature or chilled.
References
Leslie Cerier (n.d.). Pumpkin Pecan Pie. Retrieved from http://kitchen.nutiva.com/pumpkin-pecan-pie/