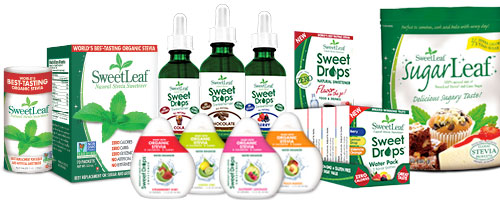 Award-winning SweetLeaf Stevia® Sweetener is unique in the marketplace because it's America's original stevia-based sweetener.
For natural, zero-calorie, zero-carb, zero glycemic  index sweetness, look no further. SweetLeaf™ offers a variety of sweet solutions made from stevia, a naturally sweet plant that is much sweeter than sugar. It is also completely calorie-free, all-natural, and has a zero glycemic index.
SweetLeaf® Liquid Stevia Sweet Drops™, made with stevia leaf extract and natural flavors, can be added to foods or beverages – from yogurt to oatmeal, water to coffee, sauces to smoothies – for sweet, sugar-free flavor. The drops are available in 17 flavors and come in a convenient dropper bottle. A little Sweet Drops flavor goes a long way, making every bottle an impressive, and tasty, value.
See more at: http://www.vitasprings.com/sweetleaf.html
References
 SweetLeaf (n.d.). Retrieved from http://sweetleaf.com/